Allianz Versicherung Jens Schmidt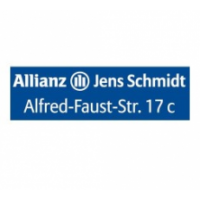 Allianz Versicherung Jens Schmidt
Alfred-Faust-Str. 17 c Versicherungsagentur
28277
Bremen
,
Germany
Products from company Allianz Versicherung Jens Schmidt
Allianz Versicherung Jens Schmidt Company Bio
General information
Allianz Versicherungsagentur in 28277 Bremen-Kattenturm. Versicherungen, Baufinanzierung und Kapitalanlage aus einer Hand. Beratung in unserer modernen barrierefreien Versicherungsagentur oder bei Ihnen zu Hause.
Wir sind Ihr persönlicher Ansprechpartner vor Ort - direkt in Ihrer Nachbarschaft. Bündeln Sie all Ihre Versicherungsverträge kompetent in einer Hand.
Bei uns erhalten Sie alle Sachversicherungen wie private Haftpflicht, Hausrat, Rechtsschutzversicherung, Wohngebäude, Unfallversicherung. Wir bieten Ihnen preiswerte Immobiliendarlehen und Forwarddarlehen für Ihre Anschlussfinanzierung.
Unser Versicherungsbüro ist barrierefrei, kostenlose Kundenparkplätze vorhanden.
Unser Team freut sich auf Ihren Besuch!
Alfred-Faust-Str. 17 c Versicherungsagentur Bremen
Opening hours

Open info

Mo. - Do. Mittagspause von 13:00 bis 14:30

Parking

The company has a parking lot with a capacity of approx 10 places.

Phone numbers

Websites

Establishment year

2017
Allianz Versicherung Jens Schmidt Reviews & Ratings
How do you rate this company?